This month's Global Supper Club transformed into a seasonally-appropriate Christmas-around-the-world party. Everyone brought a sample of their favorite international holiday fare. Considering that we'd be enjoying a smörgåsbord, and feeling adverse to making potato latkes for a crowd, I opted for tasty Swedish meatballs. Other crowd-pleasing holiday treats on the menu: glögg wine, struffoli, a layered Russian beet salad, Moroccan lamb shanks, spiced pecans, twice-baked sweet potatoes, and marzipan cookies. Another feast!
To make the meatballs, begin by stirring together 1/4 cup of breadcrumbs and 1/2 cup of cream. Let the mixture sit for 5 minutes so the breadcrumbs absorb the cream and form a paste. If it is still too loose after resting, stir in an extra teaspoon of breadcrumbs, but be careful, because the mixture can seize up quickly.
To the breadcrumb mixture, add 12 ounces of ground beef, 12 ounces of ground pork, 1 egg, half of a small, minced onion, and 1/4 teaspoon each of ground allspice, salt, and pepper. Preheat your oven to 450º F.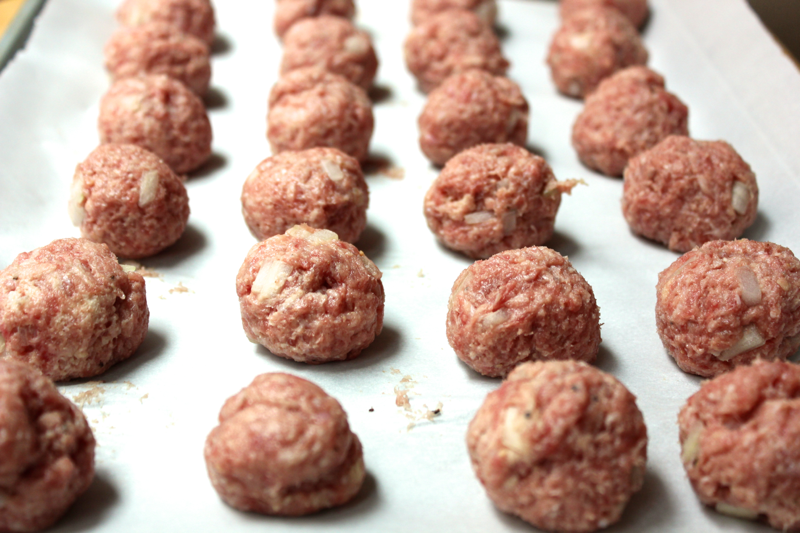 Use your hands to mix the meat together until all of the ingredients are evenly combined. Then, use a 1.5 tablespoon scoop to portion out the meatballs. I got 34. Roll each portion into a ball, and space them evenly on a parchment-lined baking sheet.
Mist the meatballs generously with cooking spray, and then bake them for 25 minutes until they are golden brown. Remove the meatballs from the oven, and set them aside while you prepare the gravy.
In a large pot, melt 3 tablespoons of butter. Then, stir in 3 tablespoons of flour. Once combined, slowly stir in 3 cups of beef broth until it is smooth. Bring the gravy to a boil, and stir in 1/4 cup of cream. Allow the gravy to thicken for a minute or so, stirring occasionally. Taste the gravy, and season it accordingly. Reduce the gravy to a simmer, and add in the meatballs. Stir them to warm through. Serve the meatballs with a side of lingonberry or red currant preserves. I set these meatballs out with cocktail toothpicks for easy party snacking, but you could easily make a main course out of about 5 of them. Happy holidays!
This recipe is adapted from Saveur.
Shopping list:
Breadcrumbs- 1/4 cup
Cream- 3/4 cup, divided
Ground beef- 12 ounces
Ground pork- 12 ounces
Egg- 1
Onion- 1/2, small
Allspice- 1/4 teaspoon
Salt- 1/4 teaspoon+
Pepper- 1/4 teaspoon
Cooking spray
Butter- 3 tablespoons
Flour- 3 tablespoons
Beef broth- 3 cups